One of the things Paul Verhoeven does better than anyone else is humor so dark and subtle, you don't notice it until years later. As a wet behind the ears 18 year old seeing Starship Troopers for the first time upon its theatrical release, I had no idea the whole thing was designed to play like fascist propaganda. I was more like, "Hey look! Lucinda from 90210 is totally topless!"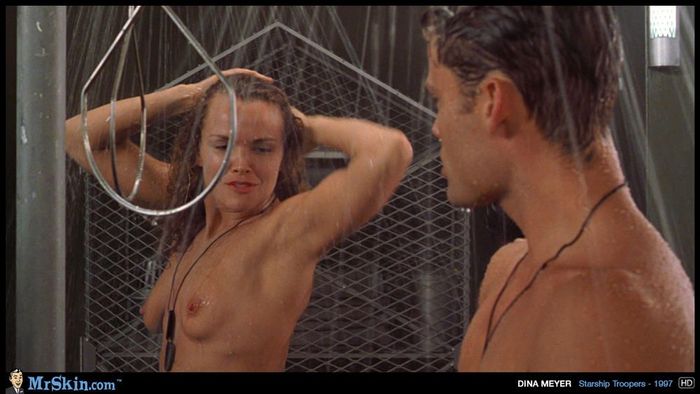 Needless to say, I got out of the movie what I needed to back then, and I've since come to appreciate its darkly subversive storytelling methods. Paul Verhoeven is a master of this kind of thing, and unfortunately his is not a game of instantrewards. He makes you work for the subtext over multiple viewings, and even then you're not halfway close to appreciating everythinghe's done.
While people were hip to Robocop and Total Recall right away, people are still catching up to this movie andShowgirls, in part because they're not completely successful at what they're attempting. He can't bring himself to pull the trigger on some ideas and forces the audience to meet him halfway, but it's almost always worth the journey.
In a new interview with Digital Spy, the newly minted Golden Globe winner—for his most recent film Elle—Verhoeven talked about Starship Troopers with great admiration, while also admitting its many faults. In perhaps the best bit of the interview, he admits that he and his DP stripped down while shooting the shower scene in order to make everyone more comfortable...
"Yeah, sure I did that. And it helped!" he says proudly. "My DoP Jost Vacano and I, we undressed and of course then everyone started to laugh. Then we shot the scene with no problem. Jost grew up in these, let's say nudity camps [sic], so he had no problem with it. For me, it was a bit more difficult but I said to Jost, 'Hey, we need to give an example...' He said 'Of course,' and boom!"
Well, I'd say it worked because it made me and everyone else reading an instant and lifelong fan of the movie.