Mid-November is another strong time for potential Oscar players, along with some leftover horror flicks and rom-coms thrown in for good measure! Let's take a look back at the best movies with nudity released on November 13 in Movie Nudity History!
In retrospect, this Angelina Jolie written and directed film seems like an attempt by her to keep her marriage to Brad Pitt going strong. The two play an estranged couple who take a vacation together in a small seaside town in France, planning for this to be one last hurrah for their failing marriage. Instead, the two end up growing closer over the course of the film, thanks in no small part to a feuding couple in the room next to theirs, played by Mélanie Laurent andMelvil Poupaud.
Thanks to a hole in the wall between the two rooms, Jolie and Pitt spy on their neighbors who seem to do nothing but the classic combo of "fucking and fighting"...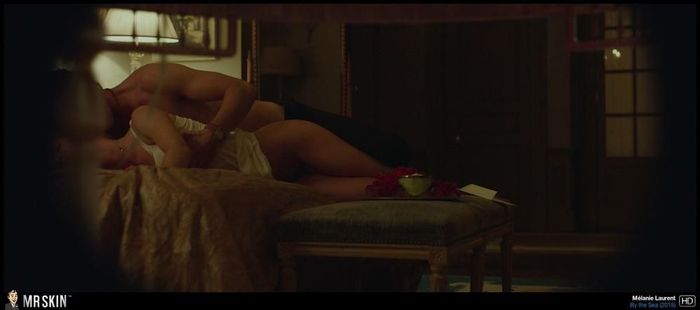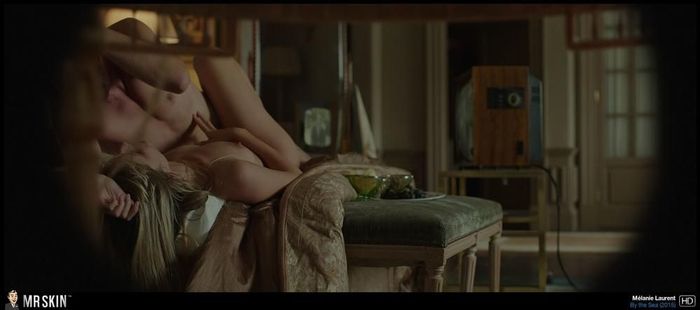 43 minutes in, we get our first look at Angelina Jolie's post-mastectomy breasts and they look as spectacular as ever while she and Pitt argue in the shower...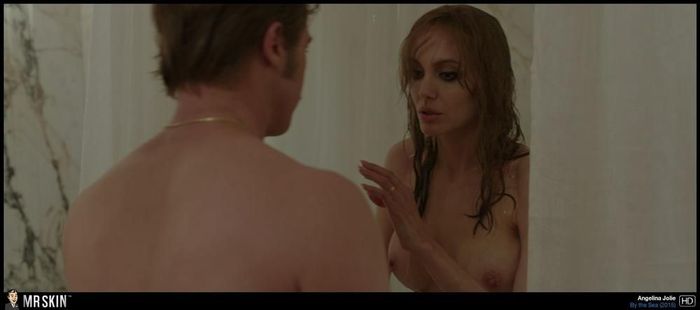 Around thirty minutes later, we see her breasts again as she sits in the tub, soon joined by a fully clothed Pitt as the two get it on for the first time in the film...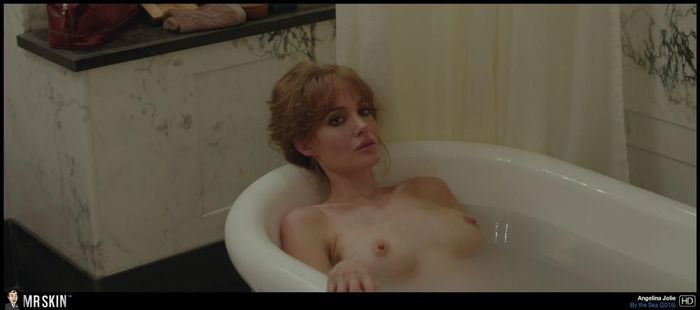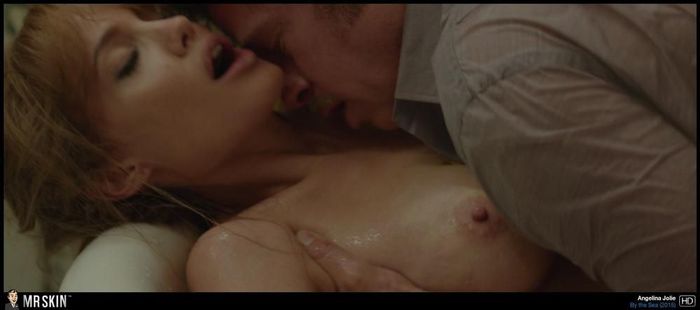 Unfortunately the film didn't take off at the box office, was ignored by the various awards groups, and ultimately failed to rekindle the spark in their marriage, as Jolie filed divorce papers less than a year later.
This intense indie drama finds the title character played by Christopher Abbottsuffering a quarter-life crisis at the same time his mother (Cynthia Nixon) gets a terminal cancer diagnosis. It's a wrenching drama, not unlike the other two films released on this day four years ago, and one that is nigh impossible to watch more than once. One scene we can definitely watch on end, however, is the one that comes 27 minutes into the flick when MakenzieLeighshows her left breast while standing behind Abbott in the shower, jerking him off...
This intense addiction drama is the final film we're covering released on this day in 2015, likely to potentially qualify for awards—which it sadly didn't, despite Jennifer Connelly's outstanding performance. Written and directed by Connelly's husband Paul Bettany, the film was an MCU reunion of sorts as the film also featured Anthony Mackie as a heroin addict, along with Connelly, who fall in love while homeless, a condition caused by their rampant addiction. The two make a strong connection, but—SPOILER ALERT—it ends rather poorly for Mackie.
Interestingly, this is the second time that Connelly has not only played a heroin addict, but also did a bush-only nude scene, the other being 2000's Requiem for a Dream. 53 minutes into this flick, she gets some heroin and a hotel room, lowers her pants, begins crying, and reveals her bush while injecting heroin into her femoral artery. It's a harrowing sequence but, hey, you get to see Jennifer Connelly's bush. Priorities people!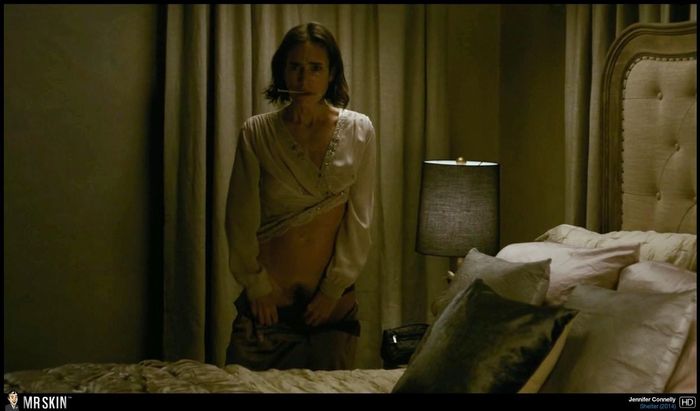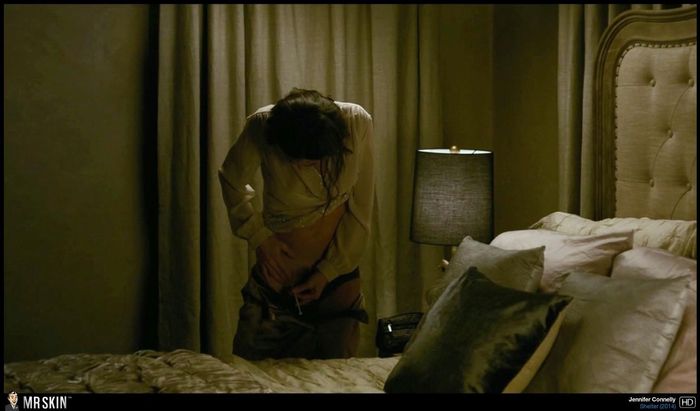 Ten years ago today we got this intense drama about a group of soldiers tasked with delivering news of their fallen comrades to grieving loved ones. Ben Foster stars alongside Woody Harrelson as both a brand new and a seasoned bearer of bad news, and Harrelson attempts to teach Foster that he must close himself off from emotion in this job. Foster's not too quick on the uptake, however, and soon finds himself becoming emotionally attached to Samantha Morton's recently widowed Army wife.
The main reason this film is remembered 10 years later—in addition to earning Harrelson hissecond Oscar nomination—is for featuring the official nude debut of former child actor Jena Malone! Malone has gone nude a bunch of times in the ensuing decade, but following a quick look at her butt crack in 2007's The Go-Getter, we could hardly believe our luck in her opening this flick with some terrific TA while banging Foster...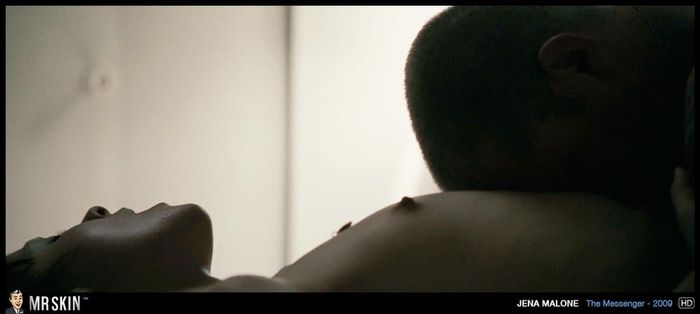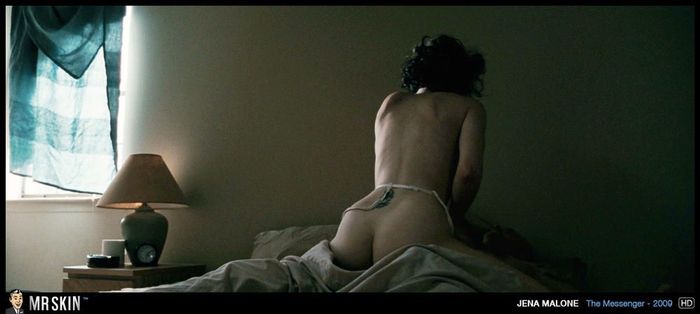 In the first of the film's many gut-punches, she breaks up with him telling him that she fell in love with someone else while Foster was in Iraq and is marrying him soon. Shortly after meeting Harrelson's Sgt. Stone, we see himsettling up with a prostitute played by Lisa Joyce, who bares fantastic full frontal while walking nude around a hotel room...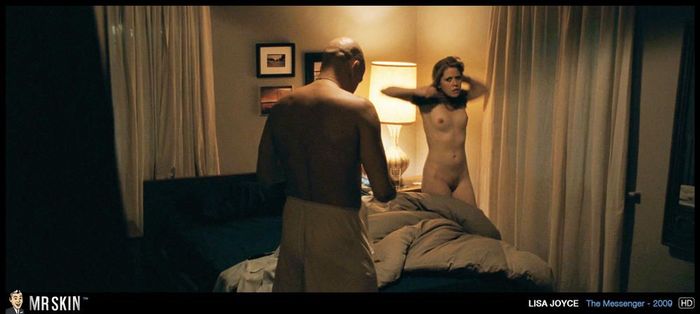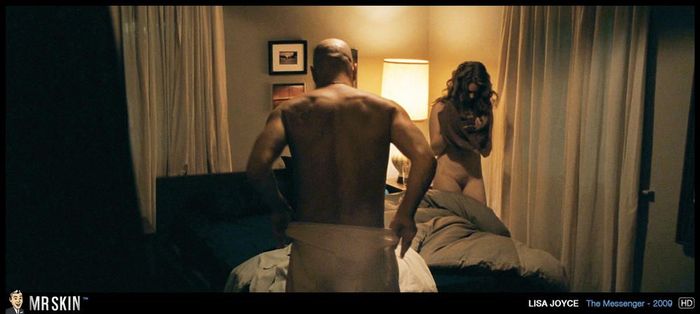 Shot and completed in 1996, this flick was shelved not long after and stayed on a shelf until it was unceremoniously dumped into about 100 theaters on this day 21 years ago.As the follow-up to The Adventures of Priscilla, Queen of the Desert, director Stephan Elliott had a lot riding on this one, which might explain why his career never really took off outside of Australia. 90s hunk Johnathon Schaech stars as a con artist who flees New York after acon gone bad, and ends up in the Australian Outback, where he eventually discovers the locals aren't as easy of marks as he initially thought.
He eventually hooks up with Susie Porter, who bares every square inch of her nude body—including some very neatly trimmed bush—while having sex with Schaech in a number of scenes...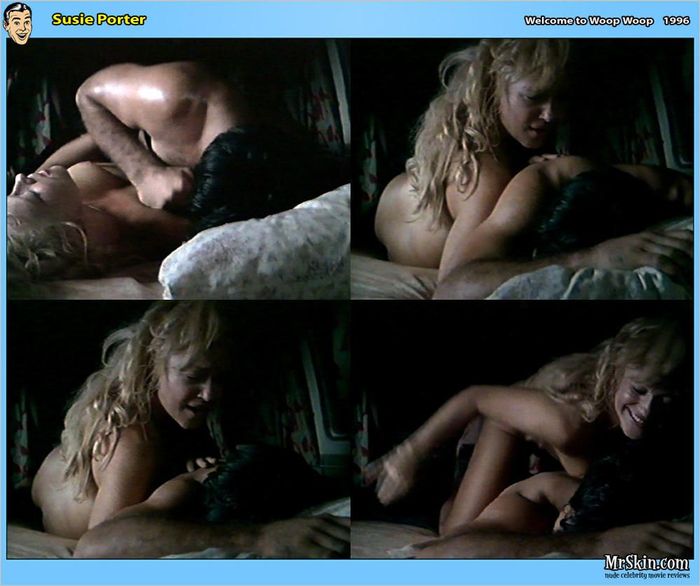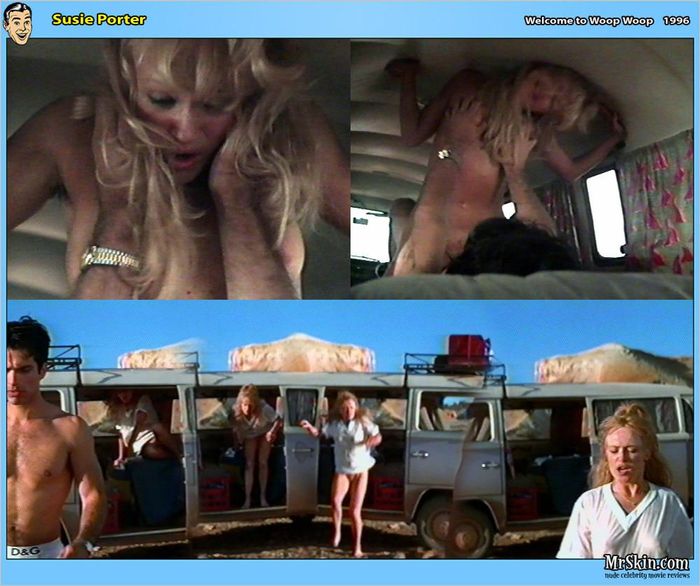 Martin Short isn't the sort of actor one tends to be jealous of, unless you've seen 1987's Cross My Heart, and then you've lived in envy of Short for the last 32 years! Based around the old dating myth of waiting until the third date to have sex, Short and the gorgeous Annette O'Toole are just about to embark on their third date when he loses his job. Desperate to keep him from finding out that she has a kid, O'Toole offers herself to Short and spends a substantialamount of screen time in various states of undress!
Following a brief nipslip when the two first get down to business at the 44-minute mark, when the film jumps forward to post-coital bliss, we get to see Annette's one and only full frontal scene...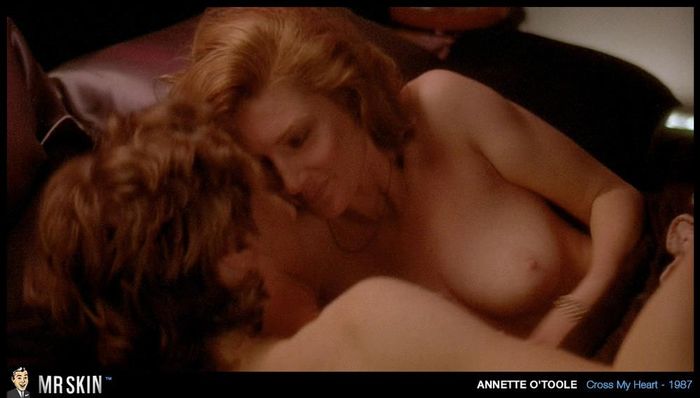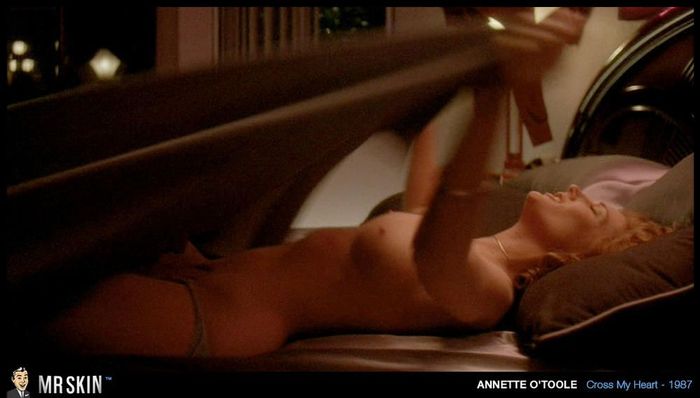 Yes, she showed her boobs in Cat People and her bush in 48 Hrs., but this is the only place to see them both in the same frame! While we're still jealous of Short, I think it's safe to say we're truly jealous of Michael McKean, who has been married to Annette since 1999!
The franchise that started six years earlier with Joe Dante's The Howling got its second sequel—following 1985's Howling II: Your Sister is a Werewolf—in this also awesomely subtitled flick The Marsupials! This flick leaned into the comedy more than its already comedy-heavy predecessors and it results in a movie that just can't live up to its admittedly awesome subtitle.
Set and filmed in Australia, this was also the first PG-13 entry in the series, but that didn't stop them from sneaking in some skin from Imogen Annesleyas a woman who is part of a strange breed of half-human/half-marsupial hybrid creatures who transforms in a barn and gets pleasured by a small penis looking creature. It's all a bit much, especially considering this is in a PG-13 movie...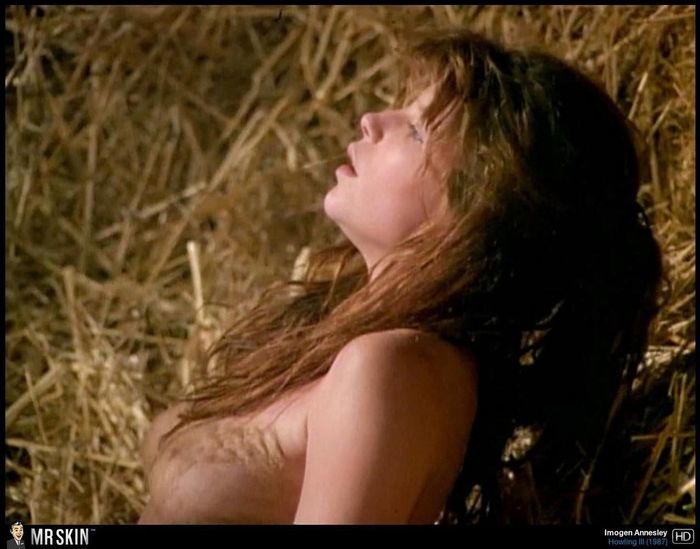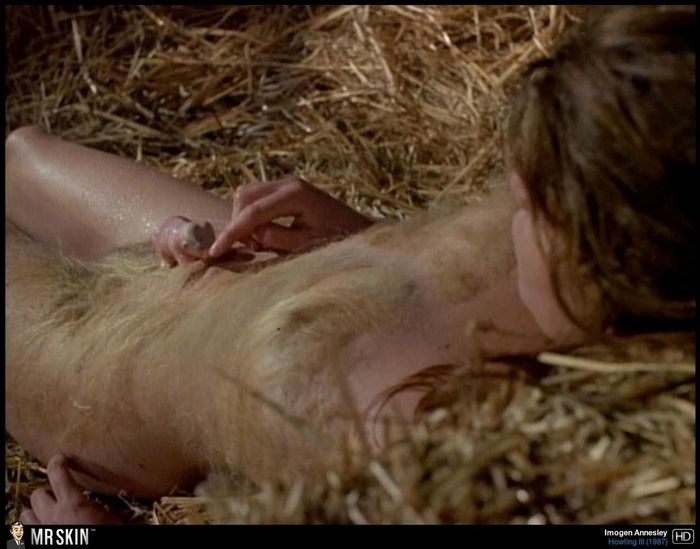 Finally, on this day 38 years ago came this low budget horror flick hoping to cash in on the horror renaissance kicked off by John Carpenter's Halloween three years earlier. Marketed on the fact that the film features a script by Alien scribes Dan O'Bannon and Ronald Shusett, the film stars Charlie Bucket's Grampa Joe himself, Jack Albertson, as an undertaker practicing black magic to resurrect the dead. It's a fairly baffling flick, but you can catch a pre-Freddy Krueger Robert Englund here as well as the late Lisa Blount, who doffs her top just six minutes in for the only credited nudity in the flick...