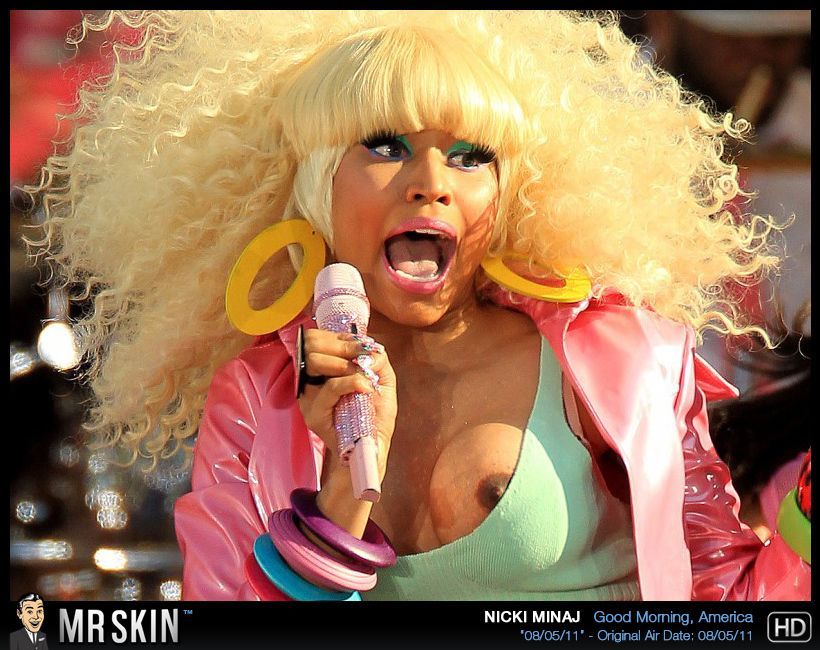 Nicki Minaj. She's got a big ol' badonkadonk butt. But did you know Harajuku Barbie also has a big ol' front? Tit's true! And oh, did she prove it this morning on Good Morning America, when her left breast popped out during a live performance. We doubt anyone tuning into the morning show expected to see Nicki Minaj nude. The epic nip slip lasted for about 15 seconds- long enough for the nip to fall out, the guys in the control room to notice and cut the feed, and STILL have that puppy flying free when they came back to the show. The breast part? This is the first nudity, accidental or not, that we've seen from the always sexy but usually skingy Nicki.

ABC, no doubt terrified of all the FCC fines and angry letters from uptight killjoys that are coming their way, has already issued a statement of apology:

"Although we had a five-second delay in place for the Nicki Minaj concert on GMA, the live East Coast feed of the concert regrettably included certain fleeting images of the performer that were taken out of later feeds of the broadcast in other time zones. We are sorry that this occurred," ABC said in its statement.

Don't apologize, ABC- this is one of the best mornings Skin Central has had for a while!

If you live in a time zone where Nicki's nipple was cut from her performance, or if you just slept in, never fear- Mr. Skin's got the video of Nicki's MAM-azing nip slip, and it's right here on MrSkin.com!