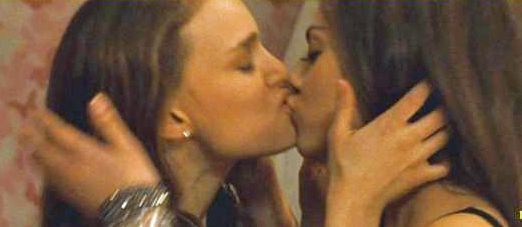 Ever since we heard that Natalie Portman and That '70s babe Mila Kunis would engage in "ecstasy-induced hungry aggressive angry sex" in their new ballerina movie, Black Swan, we've been waiting to see if there was even a grain of truth to the rumors, and if we'll get to finally see Mila Kunis nude.

Now that the trailer is out, we're happy to say that there is a grain. A small but very hot little grain.

Of course there's no sex, angry or not, in the trailer, but we do get a brief shot of the equally gorgeous Mila and Nat locking lips in what may be in the running for the lesbian scene of the year.

Black Swan is directed by Darren Aronofsky, who brought us Marisa Tomei's tomei-toes in The Wrestler and Jennifer Connolly's fluffy muff in Requiem for a Dream, so the chances that he was able to tease some skin out of Natalie and/or Mila are definitely decent!

Portman, of course, has bared her rear porthole in Hotel Chevalier (members can check it out here), but Miss Kunis has kept her pubis behind wraps. Let's hope this swan will drop her feathers.

It's time for these ballerina babes to do a real pas de deux!