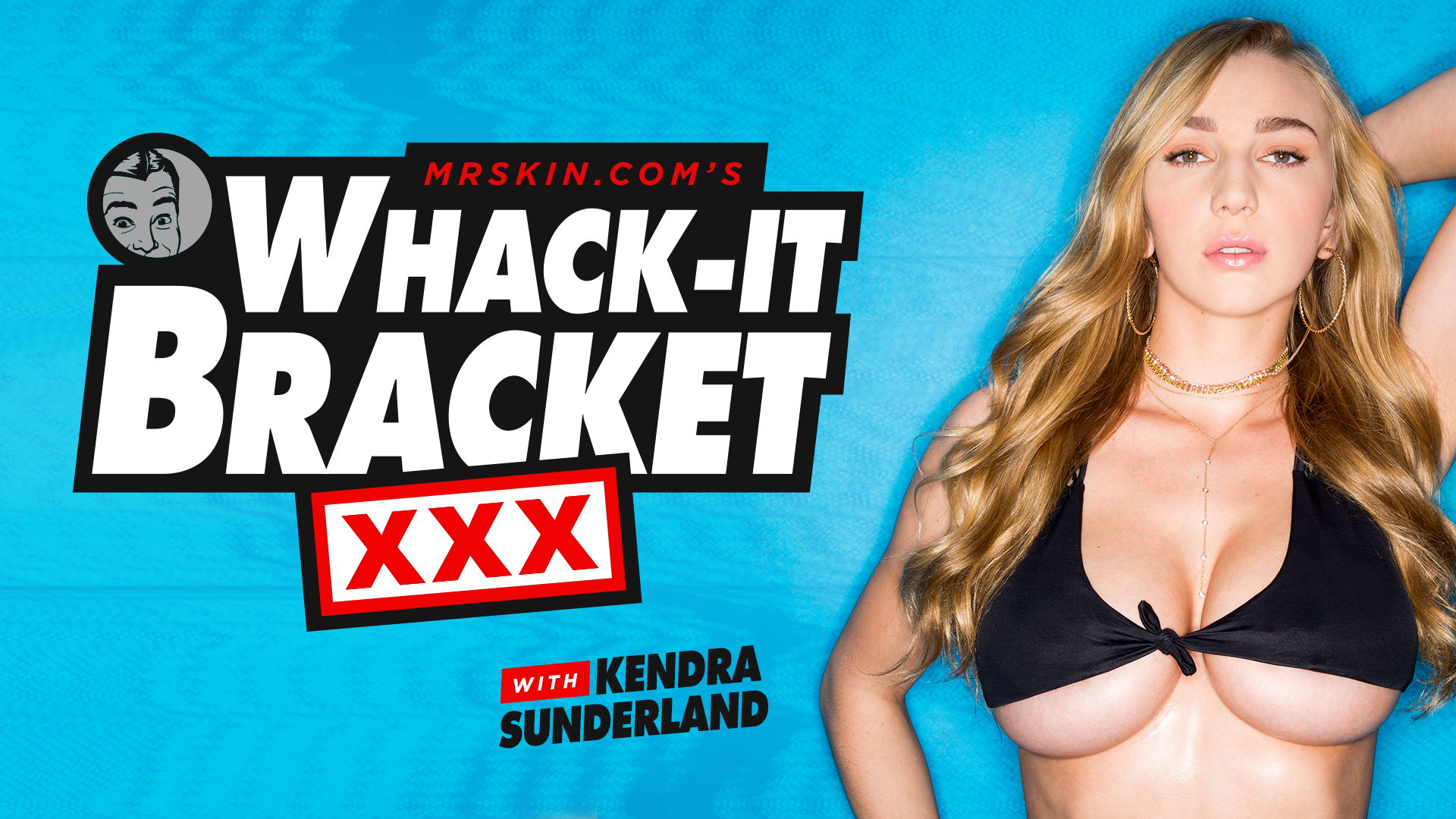 Back to tournament
Mr. Skin's Whack-it Bracket XXX Rules
Win an Amazon Echo Show from MrSkin.com!
View & vote for free on 64 sexy celebrity moments!
Come one, come all! It's Mr. Skin's Whack-t Bracket XXX- The Hottest Hardcore Celeb Moments Of All Time!
Mr. Skin's Whack-it Bracket - The hottest Hardcore Celeb Moments Of All Time!
SWEEPSTAKES - OFFICIAL RULES
To enter: No purchase or subscription necessary. Just visit https://mrskin.com/celebtastic-bracket provide a valid email address and vote on a match within the currently active round (you may not vote on previous or future rounds). A match consists of two celebrity moments: each player votes for the option they feel is the sexier moment of the two. Once you have cast your vote, you may not change it.
There will be 6 rounds of voting, taking place at the following dates:
1. March 21, 12:01 am EST to March 24, Midnight EST (32 matches)
2. March 25, 12:01 am EST to March 27, Midnight EST (16 matches)
3. March 28, 12:01 am EST to March 30, Midnight EST (8 matches)
4. March 31, 12:01 am EST to April 2, Midnight EST (4 matches)
5. April 3, 12:01 am EST to April 5, Midnight EST (2 matches)
6. April 6, 12:01 am EST to April 8, Midnight EST (Finals)
There is a limit of one entry per email address. Any late, lost, misdirected, incorrect or incomplete entries will be disqualified and SK INtertainment, Inc. (and its agents) (collectively, "Mr. Skin") will not be responsible for such entries.
Eligibility: This sweepstake is open only to legal residents of the United States, age 18 or over, with the exception of employees of Mr. Skin and members of their immediate families. To be eligible, you must agree to abide by these rules and be bound by all Mr. Skin decisions relating to this sweepstake, which are final and binding in all respects, including but not limited to, Mr. Skin's determination of the winners. Residents of Rhode Island are not eligible to participate.
Prizes: One Grand Prize winner will be receiving a Amazon Echo Show ®, valued at $229.99. Amazon and the Echo Show trademarks are the property of Amazon. Amazon is not a sponsor of the Sweepstakes. Any difference between actual value and stated approximate retail value will not be awarded.
Taxes are the responsibility of the winners: Taxes are the responsibility of the winners. No substitution or transfer of prizes permitted. Prizes may not be redeemed for cash. The number of eligible entries received determines odds.
Winner Selection
Grand Prize: Mr. Skin will pick one winner from a random drawing of those who have entered the sweepstakes.
Winners will be notified within 72 hours of the close of the applicable round. Winners must sign and notarize an Affidavit of Eligibility and Release that will be sent via email, and must be returned to Mr. Skin within 5 business days, in order for winners to be officially recognized; then their first name and city/state will be listed on the contest page. If a winner is unable to accept the prize, or if a winner does not respond within 72 hours to the phone call or email, or if a winner does not return the signed affidavit and release within 5 business days, Mr. Skin will automatically disqualify such winner and will draw another winner at random. Winners agree to grant Mr. Skin permission to use their name, photograph and likeness for advertising and promotion of this and similar promotions without compensation, unless prohibited by law. The winner will also be required to sign any applicable forms required by tax authorities and to agree to Mr. Skin's terms of service. Prizes will only be awarded if participants comply with these rules.
List of Winners: Entrants may request a list of winners by mailing a request to SK Intertainment, Mr. Skin's Whack-it Bracket XXX Sweepstakes, 1288 N Hermitage Ave, Floor 4, Chicago, IL 60622.
Limitations of liability: Mr. Skin is not responsible for technical, hardware or software failures of any kind, lost or unavailable network connections, or failed, incomplete, garbled or delayed computer transmissions, whether caused by Mr. Skin or you, or by any of the equipment or programming associated with or utilized in the sweepstake, or by any technical or human error which may occur in the processing of submissions that may limit a player's ability to participate in the sweepstake. By accepting the prizes, the winners agree that the prizes are awarded by condition that Mr. Skin, and its representatives and employees will have no liability whatsoever for any injuries, losses, or damages of any kind resulting from acceptance, possession or use of the prizes. Winners further acknowledge that said parties have neither made nor are in any manner responsible or liable for any warranty, representation or guaranty (expresses or implies, in fact or in law) relative to the use or enjoyment of the prizes.
General Conditions: If any provision of these rules are held to be illegal or unenforceable, that provision shall be limited or eliminated to the minimum extent necessary so that these rules shall otherwise remain in full force and effect and enforceable to the fullest extent permitted by applicable law. Mr. Skin reserves the right, at its sole discretion, to disqualify any individual it finds to be tampering with the entry process or the operation of the sweepstake or to be acting in violation of these rules. If we determine, in our sole discretion, that the online portion of the sweepstake is compromised by virus, bug, robot entries, or other corruption of the administration, security or proper play of the sweepstakes, then, at our sole discretion, we may cancel this sweepstake. In the event of your non-compliance with any requirement stated herein, your prize may be forfeited and awarded to an alternate winner. This sweepstake is governed by and shall be construed under the laws of the State of Illinois, USA, without regard to conflicts of law provisions thereof. All US federal, state and local laws apply and this sweepstake is void where prohibited or restricted by such laws, including but not limited to jurisdictions with laws that would require registration, disclosure, filing, trust account, or posting of a bond, or any other requirements, that are not satisfied by these terms and conditions. Void in Rhode Island.