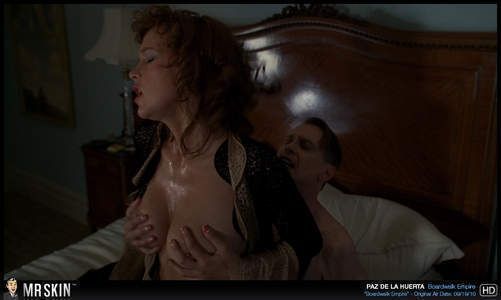 The holidays are upon us, the year is drawing to a close, and it's time to celebrate something you can't hang on a Christmas tree or enjoy smothered in gravy: boobs.

OK, so maybe you can enjoy them smothered in gravy.

While politicians talk about "dark times", time couldn't be brighter for T&A on TV and in movies. 2010 saw a record amount of flesh on American television shows, nudecomers hungry for fame and flashed funbags, and established yet skingy superstars getting nude for the very first time. Now that's progress!

Looking back on the year, we had continued casabas in skin-friendly shows like True Blood, Hung, and Weeds. We had brand new boob tube offerings overflowing with flesh like Look, Spartacus, and Boardwalk Empire.

We had shaved beaver in three dimensions thanks to Kelly Brook and Riley Steele in Piranha 3D, we had a double shot of stellar nudity and lesbianism from Julianne Moore in Chloe and The Kids Are All Right, and Christina Ricci made for a very hot corpse in After.Life.

And let's not forget the nude debuts of Jessica Alba and Kirsten Dunst, in The Killer Inside Me and All Good Things, respectively. These are two A-listers with long, established careers who have thus far refused to give up the goodies... and yet in 2010, they threw caution to the wind and threw off their clothes. For the sake of art.

This was also the year of the celebrity sex tape, with Karissa Shannon, Montana Fishburne, and Kendra Wilkinson all releasing hardcore home hump flicks.

Stay tuned for our 2010 best-of lists in the coming weeks, all culminating in Mr. Skin's Anatomy Awards. In the meantime, drop us a comment and let us know your favorite nudes of 2010.