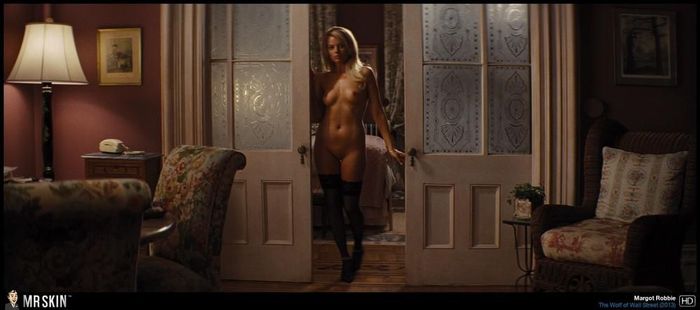 In our weekly series Anatomy of a Scene's Anatomy, we're going to be taking a look at (in)famous sexscenes and nude scenes throughout cinema history and examining their construction, their relationship to the film around them, and their legacy. This week, we're looking at one of the biggest star-making turns this decade, and how Margot Robbie nude proved that you don't have to hide the goods to be an object of desire!
While she was something of a known quantity in her native Australia, the world didn't really catch wind of Margot Robbie until she turned up in the romantic comedy About Time in November 2013. As the first object of time traveling protagonist Domhnall Gleeson's desires, Margot made a huge impression with very little screen time. She very casually demonstrated a sex appeal that many actresses work years to cultivate and it was easy to see why Gleeson's character would attempt to manipulate time in order to get with her.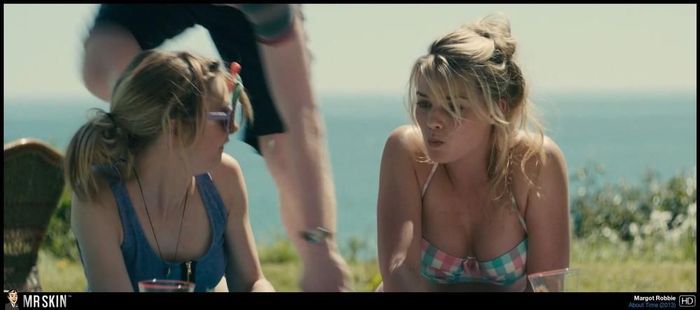 Several weeks later, Robbie officially exploded with her role as Naomi LaPaglia, the mistress and future wife of Leonardo DiCaprio's Jordan Belfort in The Wolf of Wall Street. The first time we lay eyes on her in the film is a mere two minutes in, laying on a bed in lingerie, with Belfort bragging in narration that Robbie's character was the one going down on him in his Countach moments earlier...
Director Martin Scorsese and screenwriter Terence Winter's conceit with the film is for Belfort to seduce you with his words and his wiles, just as he seduced thousands of others, at least in the early going. It makes sense, then, that Belfort would basically lead with his second wife Naomi and not his first wife, the much more shy and reserved Teresa, played by Cristin Milioti. A big shot like Belfort wouldn't want to own up to being with anyone less desirable than Naomi, so he pulls you in by including her in his extended Spring Breakers-esque "look at my shit" montage.
It takes nearly an hour for Naomi to show back up again, though in a three-hour movie, that's more or less the end of the first act. At this point in the film, Jordan is married to Teresa, but has already shown himself to be an unfaithful husband. After meeting Naomi at one of his bacchanalias, Belfort is instantly enamored with her and asks a mutual friend for her number. Robbie then owns the screen during their first date, mastering a Brooklyn accent, and probing Belfort for why he wanted to date her despite being married...
Other actresses considered for the role include Blake Lively, Amber Heard, Teresa Palmer, and Olivia Wilde, who was deemed to old to play DiCaprio's love interest despite being a full decade younger than him. No offense to any of those very talented ladies, but it's hard to picture anyone but Robbie in this role, particularly when it comes to the particulars of her big nude reveal. The pair goes back to Naomi's place and she announces she'll be slipping into something more comfortable, before revealing herself in all her nude glory...
Apparently, Scorsese offered for Robbie to appear wearing a bathrobe during the seduction scene between her and DiCaprio. Robbie refused, insisting on doing the scene fully nude, save her stockings and pumps. Robbie explained her reasoning in an interview, saying...
"The whole point of Naomi is that her body is her only form of currency in this world...She has to be naked. She's laying her cards on the table."
We cut immediately from this to the two in bed, Belfort angry that he prematurely ejaculated during his first time with a woman this gorgeous. He attempts to place the blame on Naomi's dog, who has been watching the two, but we've seen him do enough drugs by this point to wonder how he ever manages to get it up...
After shooting the film, Robbie lied to her family and friends about actually doing the nude scene, claiming C.G.I. was used to superimpose her head onto a body double. She eventually changed her mind and confessed when the film was released, a bold move for someone whose career hadn't officially taken off yet. It obviously did nothing to harm her career, and in fact, the nude scene has become so legendary that it seems in retrospect like a textbook example for other young actresses to follow.
While we may appear to be living in a more enlightened age when it comes to sex and nudity on film and television, there's still a stigma around shooting a nude scene too early in one's career. Actresses likely still look to someone like Elizabeth Berkley in Showgirls as a cautionary tale for going too sexual too soon, though I have a hard time believing that there are any actresses out there who would turn down a role in a Martin Scorsese film because of nudity.
My hope is that younger actresses may look back to Margot Robbie's example for how to own your sexuality and flaunt it on screen in a way that's both liberating and empowering. Robbie's Naomi has all the power in the relationship at this point, and as she herself said, "She has to be naked." Yes, the film might have worked without her nude scenes, but it truly is a better movie because of them.
Catch up with our other editions of Anatomy of a Scene's Anatomy...
—The "Real Sex" of Don't Look Now
—Scarlett Johansson's Nude Debut in Under the Skin
—The 2 Very Different Sex Scenes of Basic Instinct
—How Halle Berry's Nude Debut Led Her to Monster's Ball
—HowMulholland Dr.'s Legendary Lesbian Scenes Deepen the Film's Mystery
—Showgirls and the Dangers of High Camp
—Rosario Dawson Laid Bare for Danny Boyle'sTrance
—Katie Holmes MakesThe GiftWorth Remembering
—Jennifer Connelly Comes of Age in The Hot Spot
—Lisa Bonet's Bloody Nude Debut in Angel Heart
—Monica Bellucci Gets Brutalized in Gaspar Noé'sIrréversible
—Stanley Kubrick, The William Tell Overture, and A Clockwork Orange
—Wild ThingsPresents Every Man with His Dream Threesome
—Chloë Sevigny Goes Down in History forThe Brown Bunny
—Helen Hunt Does Her Best Nudity at 48 in The Sessions
—Anne Hathaway Wreaks Havoc on Her Disney Image
—Body HeatBrings Noir Into the 80s, Sexes Up the Genre
—The Master Gives Serious Drama its Horniest Protagonist Ever
—Analyzing the Dream Logic of Eyes Wide Shut
—Isabella Rossellini's Intentionally Unsexy Nude Debut in Blue Velvet