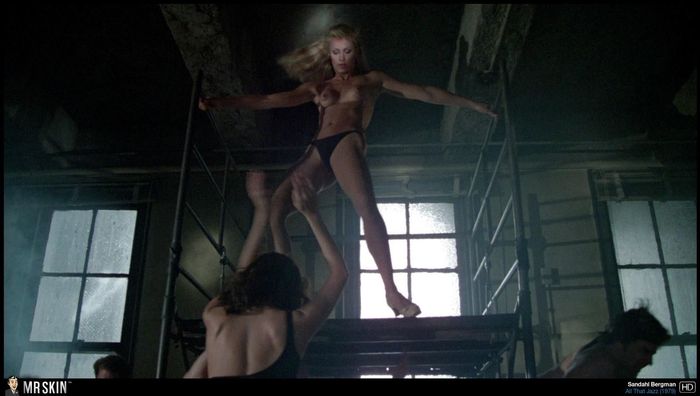 In our weekly seriesAnatomy of a Scene's Anatomy, we're going to be taking a look at (in)famous sexscenes and nude scenes throughout cinema history and examining their construction, their relationship to the film around them, and their legacy. This week, we're tackling the centerpiece musical number in Bob Fosse's semi-autobiographical 1979 film All That Jazz, and how Fosse proved a master of pushing buttons while creating something undeniably gorgeous.
Fosse pulls off quite a feat with All That Jazz, making the world of entertainment seem both magical and horrifying. It's a film that doesn't pull any punches, deglamorizing the industry as a money-making enterprise, first and foremost, showing that pouring your heart and soul into a work of art doesn't guarantee anything beyond one's own personal edification. At the same time, it shows how men like lead character Joe Gideon only feel alive when they're creating. Quoting Karl Wallenda in the film's opening scene, Gideon says, "To be on the wire is life, the rest is waiting."This romanticized notion of art and artistry is both what gives Gideon life and—spoiler alert—ultimately takes it away from him.
Mirroring Fosse's own simultaneous direction of both the Broadway musical Chicago and the film Lenny, the film centers on workaholic choreographer/director Joe Gideon, brilliantly played by Roy Scheider, who is attempting to mount a new Broadway show titled NY/LA, while also finishing his latest film, The Stand-Up. He is surrounded by people who either worship his talent or know that they can exploit his reputation for monetary gain, leaving him a man alone against the world.
Yes, Gideon is a chain-smoking, womanizing lout who verbally abuses many of the film's characters, but he is alsodepicted as a genius, with the film acknowledging that those awful side effects go hand in hand with being labeled as such. Perhaps the film's greatest feat is in never making Gideon overtly likable or relatable, likely a byproduct of Fosse's own immense self-loathing. He is surrounded by people who love him, yet are constantly neglected by him,as well asthose actively seeking to sabotage his work.
The film's centerpiece musical sequence is a brilliant act of self-sabotage on Gideon's part, however, with the director beating to the punch those who would cut him by cutting himself down first.In the midst of staging the NY/LA musical, intended as a vehicle for his long-suffering wife—Leland Palmer, playing a fictionalized version of Fosse's own wife Gwen Verdon—Gideon finds himself constantly at odds with the show's producers and creative team. When the show secures a corporate sponsorship that will lead to one of the show's musical numbers eventually being used as a real advertising jingle for an airline, Gideon concocts a scheme to show his corporate masters who is really in charge.
The number starts out innocently enough, with the cast of chorus members performing a jaunty, expertly choreographed musical sequence touting the benefits of flying from New York to Los Angeles on the fictional airline. Many of Fosse's signature moves can be found in this number from the tilted hats to the precisely splayed fingers of his dancers' jazz hands...
It's becomes an amazing collision of bodies, all of them theverymodel of perfection—both male and female—to titillate and tantalize the viewer...
While appearing on Tom Snyder's show—the full interview is available on the Criterion Collection disc—the host told Fosse that this scene was sexier than any pornography he'd ever seen, and watching it again forty years later, it's hard to argue. This is seriously steamy stuff, the sexiest scene Fosse ever filmed, thanks in no small part to the no-holds-barred antics of leggy blonde beautySandahl Bergman...
The scene concludes with the actors saying goodbye to one another as Gideon reads the following bit of dialogue...
"Not once during any of our flights have we had to crash into any real human contact or the bumpiness of any real human communication. Our motto is, 'we take you everywhere, but get you nowhere.'"
There is then a tableau of the actors' illuminated faces, an eerie portent of the coming AIDS crisiswhichbrought this age of unbridled, anonymous sex to a screeching halt...
It's a haunting end to an otherwise incredibly erotic piece of performance art, one which obviously doesn't sit well with any of the financial or creative types assembled in the room. Gideon likely knows full well that the number won't make it into the finished show, because NY/LA has already been established as a corny relic of the Broadway musicals that dominated the landscape in the 50s and 60s. Nevertheless, as he had done with Chicago several years earlier, he was challenging the notion of what a Broadway show was and especially what it could be.
Of course the financiers are the ones who get the last laugh in the film as Gideon soon ends up needing open heart surgery.This brutal scene is juxtaposed with agroup of financial types discussing how they'll turn a profit if Gideon dies, allowing them toshitcan the show and cash in their million dollar insurance policy on him. As Wallace Shawn's character states, matter of factly, "You could be the first show on Broadway to make a profit... without ever really opening."
Fosse has a deep, abiding love of theatre and art, one that didn't fit into the increasingly corporate world of Broadway. It's probably far more romantic for him to die on the operating table—as he does—than to see what would eventually become of his latest show. Like Eisenhower's final statement to the country at the end of his second term, warning of the encroaching "Military Industrial Complex," it's a chilling and prescient statement of the coming Disney-fication of Broadway and corporate control of the artistic process.
It's fun to watch this scene unfold, but it ends by sending a shiver down your spine. Fosse likely wouldn't have wanted it any other way.
Catch up with our other editions of Anatomy of a Scene's Anatomy...
—The "Real Sex" ofDon't Look Now
—Scarlett Johansson's Nude Debut inUnder the Skin
—The 2 Very Different Sex ScenesofBasic Instinct
—How Halle Berry's Nude Debut Led Her toMonster's Ball
—HowMulholland Dr.'s Legendary Lesbian Scenes Deepen the Film's Mystery
—Showgirlsand the Dangers of High Camp
—Rosario Dawson Laid Bare for Danny Boyle'sTrance
—Katie Holmes MakesThe GiftWorth Remembering
—Jennifer Connelly Comes of Age inThe Hot Spot
—Lisa Bonet's Bloody Nude Debut inAngel Heart
—Monica Bellucci Gets Brutalized in Gaspar Noé'sIrréversible
—Stanley Kubrick, The William Tell Overture, and A Clockwork Orange
—Wild ThingsPresents Every Man with His Dream Threesome
—Chloë Sevigny Goes Down in History forThe Brown Bunny
—Helen Hunt Does Her Best Nudity at 48 in The Sessions
—Anne Hathaway Wreaks Havoc on Her Disney Image
—Body HeatBrings Noir Into the 80s, Sexes Up the Genre
—The Master Gives Serious Drama its Horniest Protagonist Ever
—Analyzing the Dream Logic of Eyes Wide Shut
—Isabella Rossellini's Intentionally Unsexy Nude Debut in Blue Velvet
—Margot Robbie MakesThe Wolf of Wall Streeta Skinstant Classic
—Angie Dickinson Steams Up the Opening Credits ofDressed to Kill
—The Strange Sexual Dynamics of Dogtooth