SXSW 2020 was canceled, but several of the short films accepted into the festival were put up for streaming on Amazon Prime. One of those films is A Period Piece, a short flick about a couple trying to connect emotionally and physically while the leading lady is having her time of the month. The lead actress is played by Sonal Aggarwal, an actress and comedian based in Chicago, who was made her Mr. Skin debut with her skinsational performance. She's only at the beginning of her film and television career, having previously appeared in an episode of Easy, and her role as Geetha in this short film shows a ton of promise for this blossoming actress.
I was lucky enough to ask Sonal a few questions which she was incredibly kind to take time out to answer. Get to know your new favorite actress as she openly discusses what it was like to film nude scenes: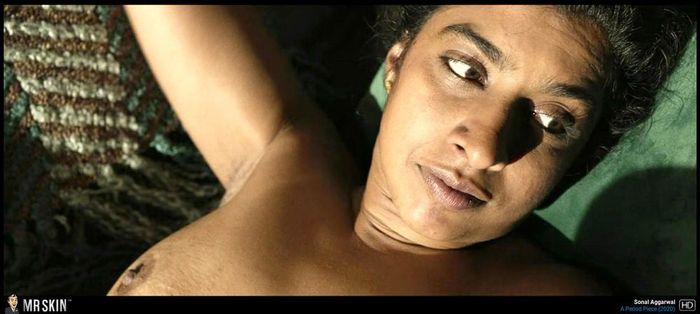 SKIN CENTRAL:Tell me a little bit about your journey before A Period Piece? I know that you're a standup comedian.
SONAL AGGARWAL: As a standup comedian, I feel like we are encouraged to do everything. Standup is just one arm of the many arms of the multi-dimensional goddesses that we all are as comedians. I use goddess as a gender-neutral term (laughs). I think that everybody has probably had opportunities where people say, 'oh you're a standup comedian, would you like to audition for my webseries or commercial?' Anything you can do on set in terms of TV and film, I really encourage people to do it because you never know what you're going to like unless you do it. It's very easy to watch a piece of content and think, 'Oh, I can do that. I can study a character and bring a performance to the screen.' What you don't realize is all the behind-the-scenes stuff. All the hair and makeup and all the 'hurry-up-and-wait'. It's kind of like when people watch a standup comedian and they just see someone doing a good job on stage, getting laughs. They don't know about all the years and time comedians give to open-mics. The road to greatness is paved with...dicks...of all sizes. (laughs) Lots ofdudes in standup!
SC: What led you to star in this short film?
SONAL:
One of the main reasons, I was so inspired by
A Period Piece
is because the director is a South Asian Woman named
Scuchi Talati
. It was kind of traditional in terms of an audition process. She reached out and said someone gave her my information, another comedian friend, and she said she was looking specifically for South Asian standup comedians for her upcoming short film project filming in New York. She's done stuff with HBO, so she had enough credentials that I knew it would be a legitimate project.And the idea of working with another South Asian woman was immediately like, 'I'm on board. What do you need me to do!'
What was so cool is that she wanted to create this very vulnerable movie.She was transparent and said there would be nudity and there would be sex, but she really wanted to book a comedian. That assistant direction,Esra Saydam, that was her vision. She saw a couple of things of mine and she knew comedians have to have a full emotional range in order to give a good performance. People look at comedians as maybe very depressed or one-dimensional or really flat. So I think it's cool that she knew that comedians have to access a lot of emotions. Plus I love hair and makeup! I love someone touching my hair and my face. I don't wear a lot of makeup, so everything was like a learning opportunity. I like the hierarchy of a film set. I like having the roles clear. The director of photography was this woman who was so strong and so tiny. She'd be holding this massive camera andI would ask her 'can I help you with the camera?' and she'd say 'No, that's not your job!' I think that's so cool that everyone has clear jobs and we all do it together.This film project was an 80-20 split of 80% women and 20% men on the crew. It was a great rule to follow. Filming is so vulnerable, so it was so much easier having all of these women around.
SC: What was it like to film nude scenes? Were you nervous at all?
SONAL: If you've ever talked to anyone who has done nude modeling for art classes or something, they say that once you get over being naked you get nervous about other stuff. You get nervous about giving a good performance! What is my face doing? Are my eyebrows overacting?
I was traveling for years before this and I have lived in many clothing-optional environments. I lived on the big island in Hawaii where there was a straight-up nude beach. I remember my mom came to visit me and I told her, just so you know it's a 'clothing optional beach'. She looked down at the beach and was like 'I think it's just a bunch of gay dudes.' (laughs) She thought it was just gay guys! I was like, doesthat mean it's okay for us to be naked? My mom is really conservative, but she was like 'the human body is a beautiful thing and if it's safe then you should feel comfortable.' And I was like...what? You won't even let me have a boyfriend!
So! I didn't feel uncomfortable during the filming because it was such a containedexperience and everyone was so respectful. The DP was like my champion. She kept telling me 'you look so beautiful, this lighting is fantastic'. So I was just concerned about doing a good job. When you're hired to do a job, you just want to do well. So mostly I was nervous about imposter syndrome. I was flown into New York to actbe an actor in this project and I really want to bring her project to life. I felt more nervous about that. I felt naked more in that way than I felt physically naked.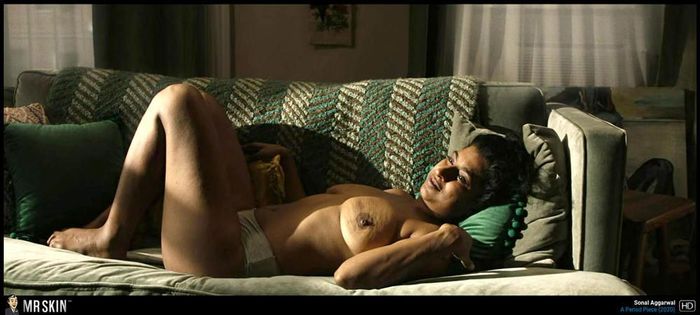 SC:What are feelings about onscreen nudity in general?
In general, I think there is a lot of gratuitous nudity that is completely unnecessary. I come from an Indian household and in Bollywood movies, there wasn't even kissing. If there's kissing, it's like *gasp* western influence! It's still seen as something sacred that's supposed to be behind closed doors. That doesn't mean that other people aren't supposed to see it, but it means that you're supposed to be so present in your nudity that you don't want other people interfering. For onscreen nudity, I think anything that makes people feel anything is the type of content that I'm into. I think it's really cool when you can feel like 'oh this is so beautiful' rather than 'this is pornographic'. I think it's beautiful. I think the set design and lighting makes it all especially beautiful to show people comfortable in their bodies.
What I like about me and my co-star is that we have what I'd call "normal bodies". We don't have likeHollywood Avengers bodies! I'm not
Scarlet Johansson
and he's not...Captain America or whatever that actor's same is. Steve? I don't know. My co-star (
Nardeep Khurmi
) had a little bit of chub on him and I found him very attractive. I'd tell him 'I love your body' and he'd kind of giggle be like 'sure, dude'.We're not supposed to find chubbiness attractive? Whenever I say that to chubbiness people think like 'are you making fun of me?' I love seeing all sorts of bodies onscreen.I mean my boobs are sitting on my lap in one of these scenes! They aren't like up in my face and I think that's cool. I was happy to be apart of this.
SC:Have you seen A Period Piece yet? What do you think of the finished product?
I have seen it and I love it! Thank God! I'm so proud of it. I'm really excited to be talking about this movie.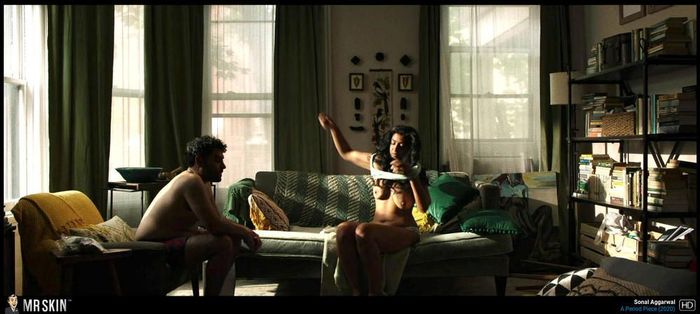 SC:Between your comedy and acting jobs, do you ever worry about how family and friends might view your work?
No, I worry about how my parents might view my work. Friends have generally been pretty - well, with friends you just want them to like it. I had one friend so far was like, "oh my god, your boobs! I wasn' prepared!" I thought that was so funny. I'd love for more people, in general, to just be more comfortable in their bodies and more comfortable being naked. It's ridiculous.
There's part of me that thinks my mom could see this and think it would be so beautiful and another part of me worries she'd be like 'oh my god, your boobs are onscreen, why are you doing this? What's the point?'
SC:Since this is Mr. Skin, I have to ask: do you have a favorite movie nude scene?
Honestly, I really have never liked the show
Girls
,but I really like all the nudity! I haven't seen a lot of the show, but anytime
Lena Dunham
takes her little pear-shaped body onscreen, it's so imbalanced in a sense because she seems like an egomaniac who is trying to be accessible. But I always like it when you see awkward stuff onscreen. Favorite movie nude scene is when that woman from
Kama Sutra
- I don't know if you've seen this movie from the 90s, but it was bad - but it was the first time I saw an Indian woman naked in a movie. I was like
wow! Brown nipples! that's what color my nipples are!
Then her career was completely ruined, I think, but that was in the 90s.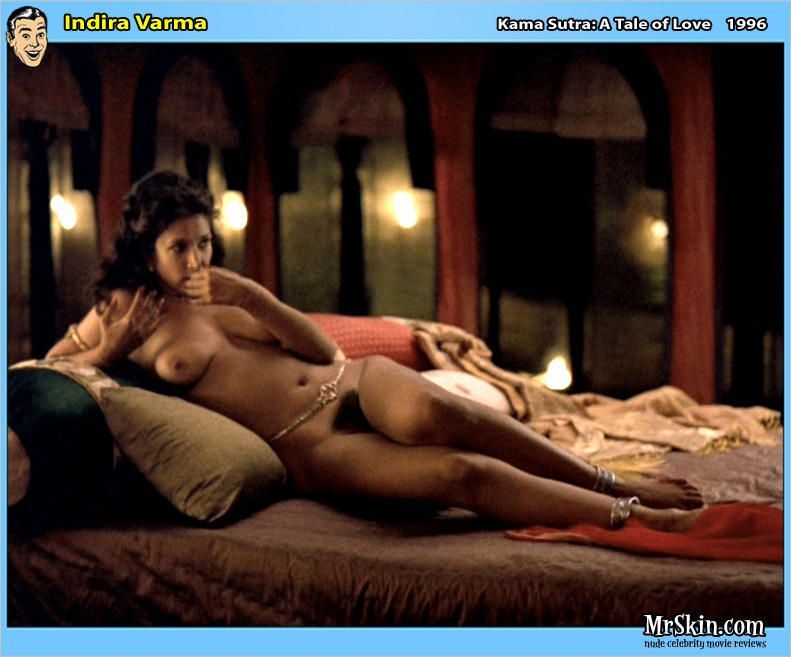 SONAL: That was something I was actually kinda worried about. Will Ijust be known as that naked woman? But, no, I don't' think that's happening. The timing is really good for something like this. I don't think I'll be known as that "gross naked woman". I haven't been getting that kind of feedback. The feedback is that the feeling of the short is very familiar which is incredible. It's not about this South Asian story or a story about this specific woman or this dude -it's thisstory about two humans and this forbidden love because they are trying to have sex and something comes up. You're really rooting for them. Everyone can relate to that 'oh, this did not go as planned' kind of feeling.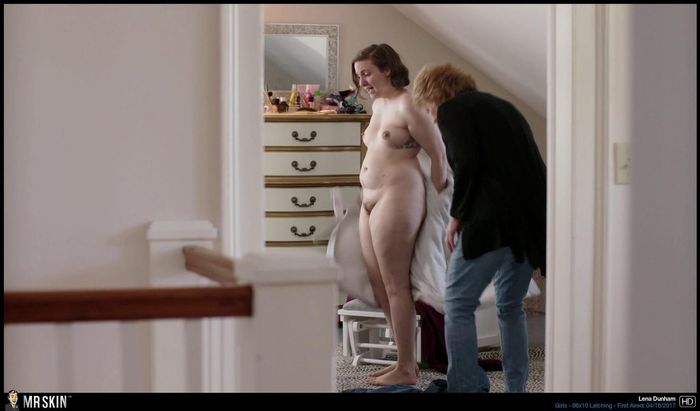 SC:And who are you celebrity crushes?
My god, so many.
Irfan Khan
. He just died and it's really tragic cause he was the Bollywood-Hollywood cross-over hit.I'm very attracted to all the women in
Insecure
. I don't love that show because it's so relationship-focused - that's what I really like about
Frozen 2
. I thought they'd make Elsa find a girlfriend or boyfriend, but she was on her own!
Frozen 2
isn't a crush. I just liked it. I also love the dork kid from
Sex Education
and
Lark Voorhies
from
Saved By the Bell
? I was like 'why are we supposed to be attracted to Zach?
She's
the hot one!' There's also a show called
Made in Heaven
on Amazon Prime and one of the main characters, Tara (
Sobhita Dhulipala
). I just had a huge crush on her whenever she was onscreen.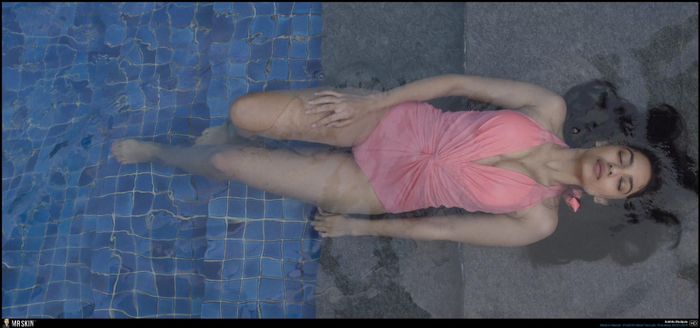 SC: What's next for you? Anything you'd like to plug?
I'm doing kids' concert series on Zoom for the month of May called Auntie Sonal's sessions every Tuesday. That's for kids, though! I don't know what's coming up in terms of human interaction, but right now everything is online and I'm happily trying to pivot into that world.
I'm really happy to talk to you about all of this because when SXSW was canceled, I felt like it was a goodbye to all of that opportunity. Goodbye SXSW, goodbye movie, goodbye Schachi. I was really sad.Because of Amazon Prime and because she decided to put the movie up until May 6, we are out in the public forum. We've been talking a lot! I can't believe people don't have period sex. Go in the shower. Put down a towel!
Watch a snippet of Sonal in A Period Piece here: