Throughout the Month of October, Count Down the Sexiest Nude Horror Movie Hotties of All Time!

Number 1: Jamie Lee Curtis

For the past three decades, one name has defined the hair-raisingly hot crème-de-la-crème of leading ladies in horror classics.

That name is Jamie Lee Curtis.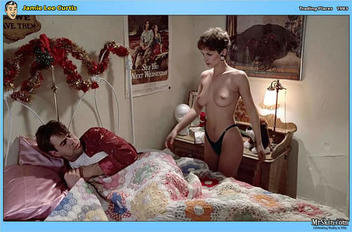 And despite her lustastic terror lineage – Jamie's mom, Janet Leigh, kicked off this Scream Queen countdown at #31 – as well as appearing in the first two Halloween films, The Fog, Prom Night, Terror Train, and Halloween H20: 20 Years Later, Jamie Lee Curtis has become the world's most famous and beloved horror movie sexbomb … who has never gotten naked in a horror movie!

Nonetheless, the Jamie Lee Curtis's nudity in non-fright films ranks among the most rack-tacular of all time.

So combining that with her iconic status as The M.I.L.F. or all modern horror, Mr Skin jacks his lantern in tribute to Jamie Lee Curtis as the #1 Naked Scream Queen of all time.