The holidays are right around the corner, and whether you're hanging Christmas lights or dusting off the dreidel, the fact is that you're going to need some gifts in the very near future. That's why we've rounded up the breast of the 'net so you can find that perfect gift for the skin fan in your life...like, say, yourself!

Boobs

Do you worship the wobblers? Are you kookoo for boom-booms? Then here's a few breastacular reminders of your favorite body part:


Never forget what day it is again with one of the world's most breastacular actresses: Gentlemen, the Kelly Brook 2012 wall calendar. Buy at CalendarClub.co.uk
A less-than-subtle hint for romantic dinner dates, these Pasta Boobs even come with a recipe for "Pert Pasta Boobs Tossed with Creamy Herb Sauce." Step One: Make homemade cream. Buy at FredFlare.com
If you can get that date to stay the night after she's tasted your cream sauce, perk up your morning-after breakfast with this Boob Creamer jug. Heh. Jugs. Buy at BaronBob.com
Proclaim your love for the betties down at the skate park with this Mystery X KAB "I Heart Boobies" skate deck. Skater girls not included. Buy at Zumies.com
Butts

Consider yourself more of an ass man? Then back that thang up to this thongtastic merchandise:


From the company who brought you The Big Book of Breasts 3D and The Big Book of Pussy, Taschen's The Big Butt Book displays over 400 photos of delicious derrierres in all of their naked glory. Buy at Amazon.com
Culo by Mazzucco declares that "the world is no longer flat", and skindeed this lavish coffee-table book, edited by P. Diddy, is packed with ripe, round rears from elebs like Lady Gaga, Nicole Scherzinger and Pamela Anderson. Buy at Amazon.com
Preventing hand strain is important to any savvy spanker, so rest your precious wrist on this 3D mouse pad featuring a back-heavy babe's badonkadonk butt. Buy at KingGrand.com
For an enjoyable evening of ass-centric skinema, you can't do any better than the Uncut and Uncensored Tinto Brass collection, featuring unrated European versions of Private (2003), Frivolous Lola (1998), and Cheeky (2000). Buy at Amazon.com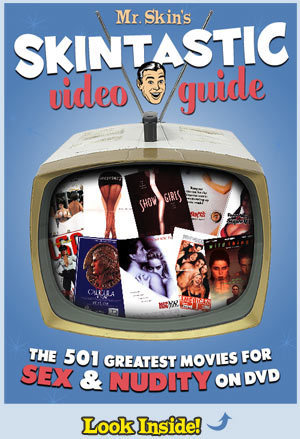 ...And of course, whether you prefer poopers or pontoons, you'll find more than enough celebrity flesh to satisfy your cravings in Mr. Skin's Skintastic Video Guide, featuring the 501 best movies for sex & nudity as hand-picked by the Skin Staff! Buy at Amazon.com
Join us again tomorrow for more sexy, silly, and just plain skintastic gift ideas right here at MrSkin.com!