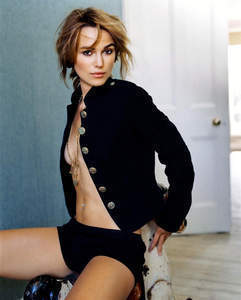 Elegant sex kitten Keira Knightley might want to look into investing in a burglar alarm system, or at least a few extra deadbolts. According to celeb news sources, the petite-teated Brit babe had her London home burglarized, and among the stolen items were two of the actress's personal laptop computers. A source says:

"'She feels violated and doesn't know if she wants to return to the flat.' Detectives, who do not believe Knightley was targeted for her fame, are worried that the burglars will sell sensitive material found on the computers."

"Sensitive material"? That's the kind of term that makes Mr. Skin's ears (among other body parts) prick right up!

Although our policy here is to only celebrate nudity that a star willingly puts out--via movie, TV, or approved sex tape--that doesn't mean that the idea of private Knightley knudes isn't a thrill.

And if the laptops are clean, we have plenty of legit Keira to fall back on: her debut boob flash in in The Hole, her pair of twos in Domino, another look at her rack-et in The Jacket...

Sure, Keira has yet to show her lap(top), but as long as she keeps stripping on screen, no one should have to steal to get more Knightley!