When you think of foxy funnygal Jenny McCarthy, you think of many things: big, bouncy boobs, Singled Out, dirty jokes. But "huge bush" isn't one of those things.
However, Jenny herself appeared on Oprah yesterday and opened her mouth about opening her thighs for her very first Playboy shoot. Apparently, in the early '90s, Jenny wasn't yet wise to the quim trim. She said:
"All of a sudden I hear WOAH, WOAH! And I said is there anything on it? What's wrong?"
Jenny said the makeup artist came over to her and explained why everyone was so shocked. "They said they never saw anyone as hairy as you in their entire life!" The audience roared as Oprah laughed along with Jenny.
Jenny kept the audience and Oprah in hysterics when she added that the makeup lady used a brush to manicure the region and later exclaimed, "I guess I'm not using this one again!"
Frankly, we have a hard time picturing juicy Jenny with a 'fro down below, so come with MrSkin.com and we'll take you on a thick and fluffy tour of a few of the bushiest vadges in cinema history.
Maria Schneider
The unbelievably gorgeous Frenchie Maria Schneider sported a frizzy mop of natural curls... above and below. In the erotic classic Last Tango in Paris (1972), Maria received the first wango in her ass from a Marlon Brando, but the butter scene was almost eclipsed when Maria whipped out a bush so big, it was larger than Brando himself.
Kelly Nichols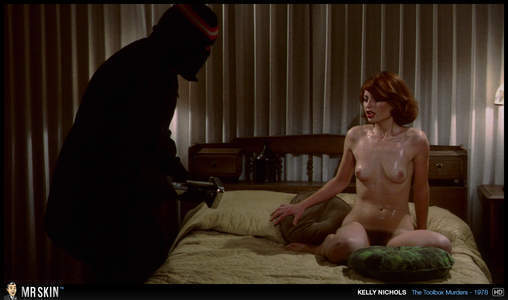 In The Toolbox Murders (1978), future porn star Kelly Nichols starred in the killer thriller, but the real heart-stopper is the sight of the hairy hedge between her legs. Toolbox? More like WOOLbox!
Suzanna Hamilton
1984 (1984) took place in the future. And apparently, in the future, personal trimmers go the way of the dinosaur. The movie may be dystopic, but Suzanna Hamilton's hair burger is utopic. Just call it Nineteen Eighty Fur!
Mary-Louise Parker
The lovely and skintoxicating Mary-Louise Parker currently stars as a pot-dealing mom on the show Weeds, but in Angels in America (2003), the weeds grew wild down below. No weed-whacker was in sight as Mary get bare-y and showed some muff that could only be described as "dank nugs"!